Staying in Dubai with the dry tropical climate, our hair condition goes through a lot between barbershop visits. Whether from blow-drying, excessive sun exposure, using the commercial shampoo/conditioner, doing hair color or relaxing, and not using a proper filter in your shower to reduce the chlorine content which causes the hair to be weakened and makes it dry and damaged.
Here at SKILLS, we provide a wide variety of Hair Treatments that specializes in targeting specific hair problems, whether you might need a basic scalp and deep infusion treatment or a much more complex Keratin, Protein, or Hair Filler treatment.
The Hair Treatment Consultation Process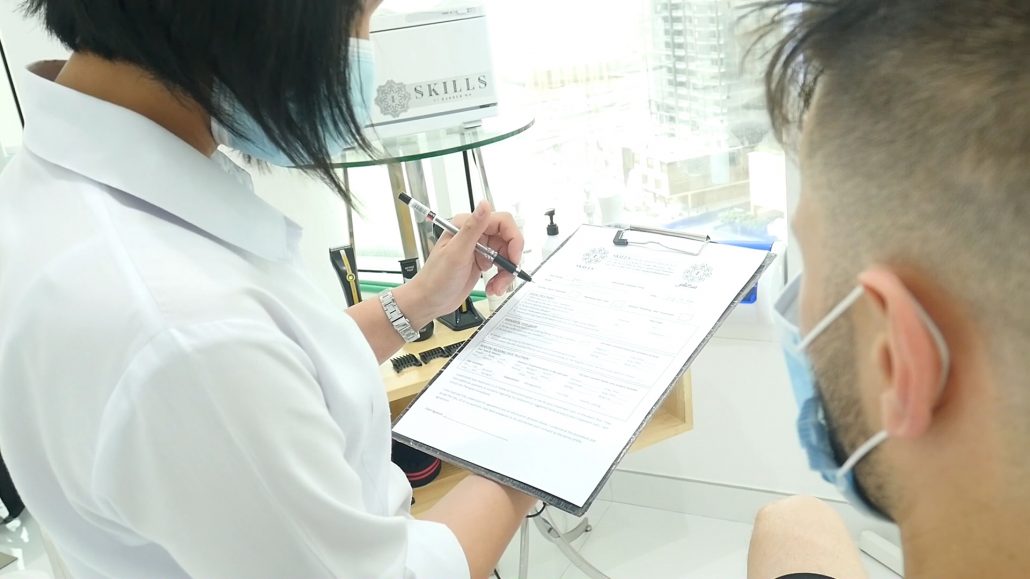 Our highly trained and experienced stylists begin with a thorough consultation on your current hair condition as this is an important first step in properly understanding the problem. By doing a physical inspection we are able to see the problems either on your scalp or hair, then right after that, we ask you a couple of questions to understand clearly all your concerns.
Once we have established the understanding and have prepared the plan for your goals that is the time that we will start doing the Hair Treatment.
The Hair Keratin Treatment is Not for Straightening.
Note: You should always ask questions with your stylist as a proper understanding of the whole process can greatly benefit you in the long run, also don't forget to ask for recommendations and a follow-up consultation right after your treatment.
Our Hair Consultations can always be overwhelming with information for the first time, as we always approach the hair as a whole which allows us to achieve desirable results. To make this process easier for our clients, we always write down everything we have discussed during your consultation.
If you want to learn more about our hair treatment service, feel free to
Contact us here.
For Consultations/ Appointments