Previous Episode SKILLS Talk – Episode 11 "MUST-HAVE GROOMING PRODUCTS IF YOU ARE STAYING IN DUBAI"
SKILLS Talk – Episode 12 "GET THE BEST HAIRSTYLE BY YOURSELF"
In this episode, our Senior Barber @barber.mo talks about some tips and advice on how to get the best hairstyle by yourself.
Tip #1. NEVER neglect your hair wash – The hair wash is the MAIN KEY in achieving the best hairstyle. Your hair like your skin is made with a special type of protein called "Keratin" that is found in your hair fiber, when the hair fiber gets dry your hair will always go to the direction of your hair growth and you will only able to control it if the hair is wet. That's why whenever you wash your hair with the proper shampoo and conditioner, the ingredients inside will make your hair more manageable and flexible when you begin your hairstyle.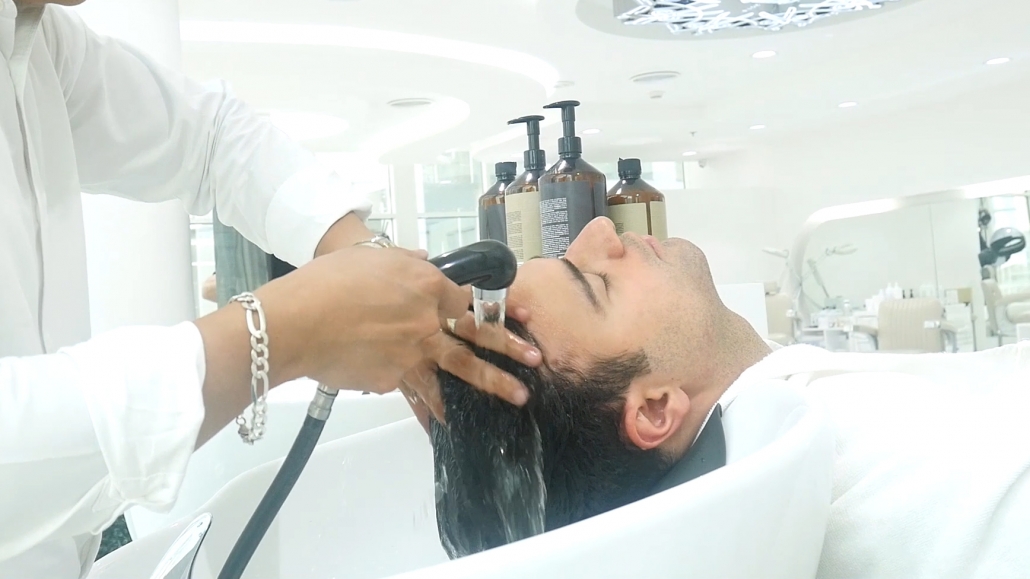 Hairwash is the most important and the first initial step in achieving an easy hairstyle.
Tip #2. PROPER usage of the Hair Dryer – The main purpose of the Hair Dryer is to dry the hair out and at the same ironing the hair fiber while maintaining the proper direction for the hairstyle that you are trying to achieve or your hair can stay still. The Hair Dryer has a specific duration of use, so if you use it for too long it will cause burn or damage, and if you go for a short time you will achieve nothing or your hairstyle will only last you for a few hours, and that depends on the quality of the hairdryer, temperature and your hair thickness and texture. How do you find all that answer? Just ask your barber about all these specific details.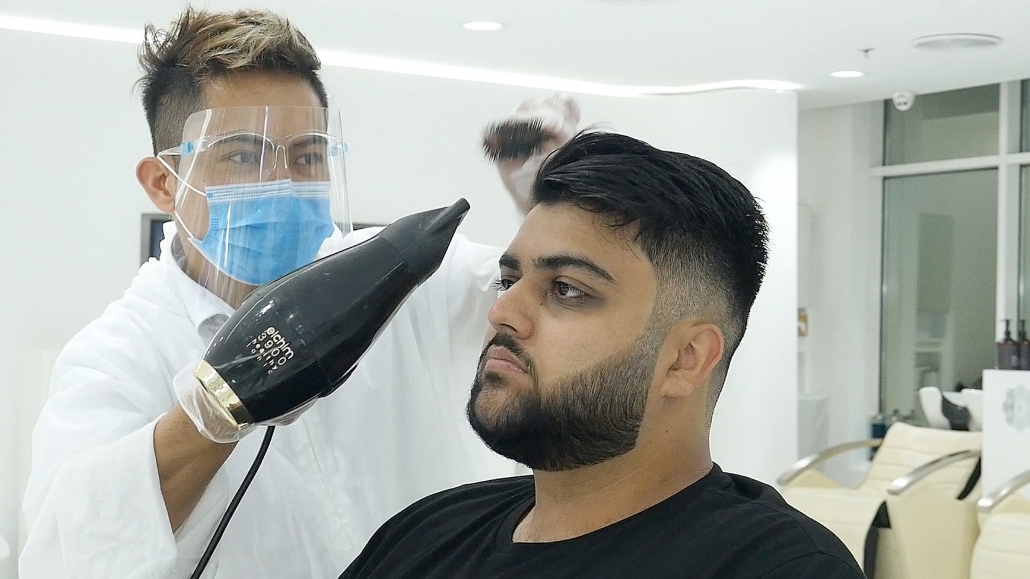 The Hair Dryer has a specific duration of use, so if you use it for too long it will cause burn or damage.
Tip #3. The TECHNIQUE of using the Brush – There are many different types of brush with different types of use. The most common brush which is the Rolling brush, and as small as its size that will produce a sleek hair finish, and if the size is bigger that means you are increasing the puff. The puff is produced by the proper technique of the hairbrush along with the hairdryer. So if the direction that you like is against your hair mood then you have to make sure that you need to use the small rolling brush on the roots only with the short timing while your hairdryer is set in the highest temperature, that is the only way that you can control your hair against the natural direction. With the proper technique of the Brush and proper usage of the Hairdryer, you can achieve any hairstyle and you can direct your hair in any direction.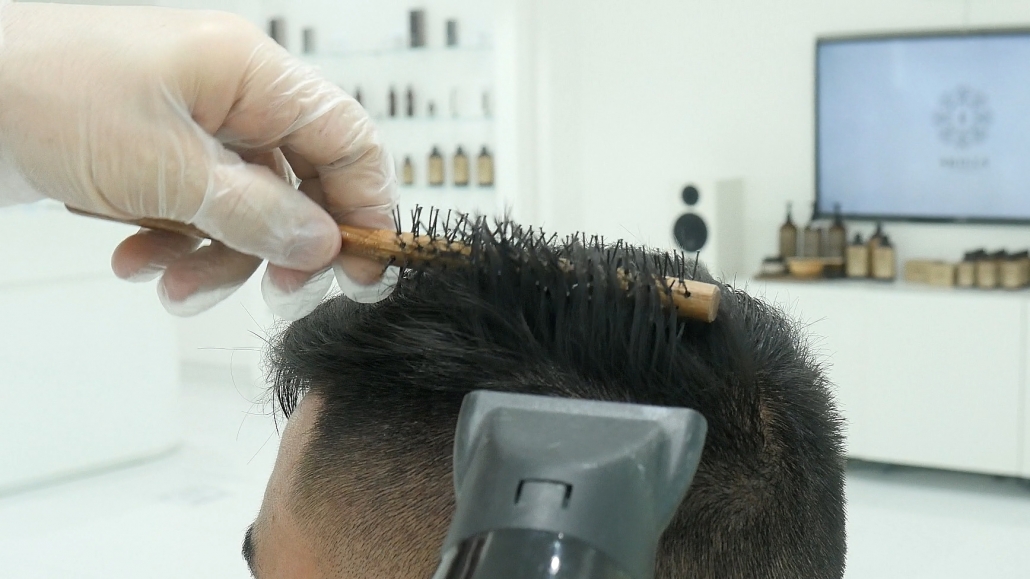 With the proper technique of the Brush and proper usage of the Hairdryer, you can achieve any hairstyle.
Tip #4. CHOOSE the Proper Hair Product for your Finishing – Make sure you use the proper hair product for yourself, if you are looking for a puffy hairstyle avoid using any hair product that will give you sleek finishing look like Pomade or Gel because it changes your hair fiber and it decreases the volume and there where you lose your puff. And if you are looking for a sleek hairstyle you need to make sure to avoid any Matte or Fiber because this will increase the puff in your hair and it is made only to increase the volume in your hair.
LEFT (Matte Finishing), RIGHT (Sleek Finishing)
If you want your hairstyle to last you long if you are going to any occasion, then make sure to use the Proper Hair Spray which is Matte or Shiny depending on your preference, because this will hold your hair longer than usual, and your hair will not be affected by sweat and will not allow your hair fiber to fight back to the way your original hair looks like because usually, the hairstyle will only survive 3 to 4 hours before it starts to fight back and make your hair mess.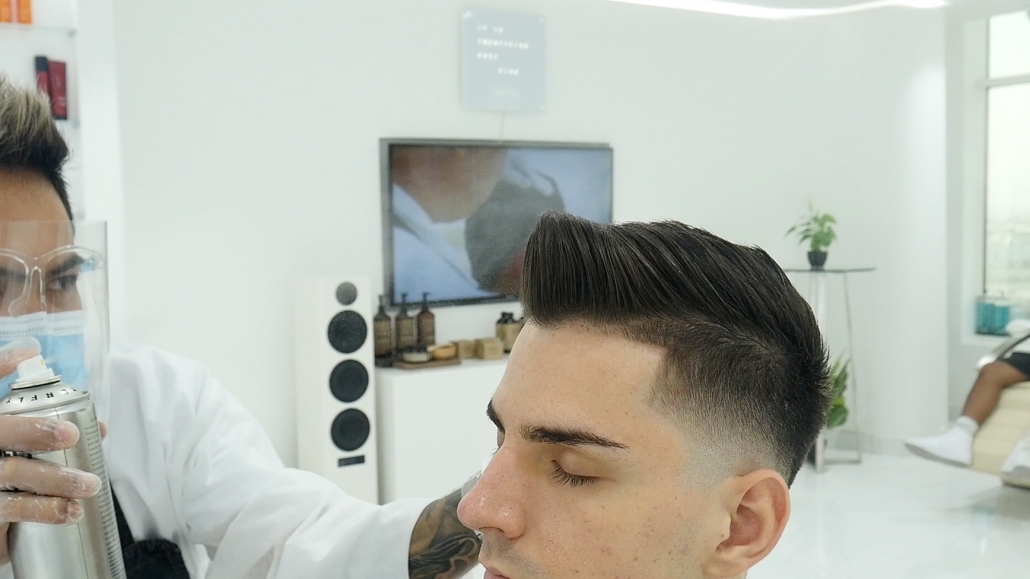 Hairspray will add extra 4-8 hours of hold on your hairstyle.
Lastly, the most important thing is when you enjoy your hairstyle for the whole day you always need to wash it during the night or before your sleep because the hair product can leave a thick residue on your scalp if it's not properly washed off, this can clog the pores of your scalp and cause hair follicle reduction. That it means your hair start to grow thinner, weaker, more brittle hairs – which can give an appearance of hair loss.
Washing your hair at the end of the day is the most important tip that you should never forget to avoid hair damage.
That's it for this episode, I hope you guys learned a lot from this episode on how to style your hair by yourself, leave a comment if you have any question and we will see you all again next week.
Watch the Full Video:
SKILLS Barbershop is located in the Business Bay area in Dubai, at Clover Bay Tower, and is run by the Celebrity Barber, Mohamad Mir Ebrahim aka Barber Mo. With over 20 years of grooming experience, he has served a lot of celebrities, including from his list are Will Smith, Jay-Z, Diego Maradona, Sergi Constance, Kid Ink, P Money, MIMS, OB Obrien, Local and International DJ's as well as some notable International athletes and personalities.
https://skillsdxb.com/wp-content/uploads/2020/10/Proper-Usage-of-Hairdryer-at-SKILLS-Dubai-Barbershop.jpg
976
1736
SKILLS DXB
https://skillsdxb.com/wp-content/uploads/2020/01/Web-Logo.png
SKILLS DXB
2020-10-27 08:16:11
2020-10-27 08:17:14
SKILLS Talk – Episode 12 "GET THE BEST HAIRSTYLE BY YOURSELF"